The Rides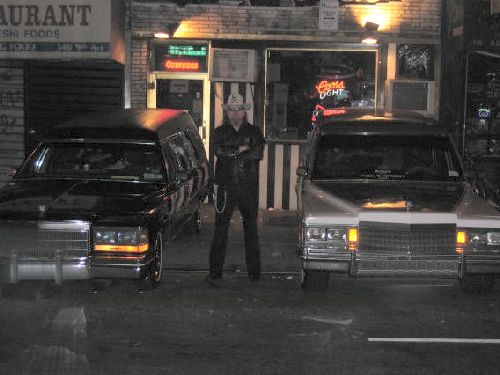 1968 Cadillac Fleetwood
60K original miles on body
Triple black, originally factory gold
No post 4 door
Original 472 engine/Rebuilt, bored out 30/over
Polished crank/beefed up cam-shaft
Edlebrock performer intake manifold
Edlebrock 850 cfm carb
Rebuilt 400 auto trans
Dual exhaust w/ cherry bombs
Cruises along as it should in classic Caddy style, with enough trunk room for 5 Jimmy Hoffas. A total sleeper, it will smoke most at a light.
The Pimpmobile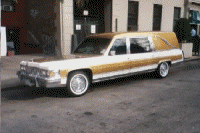 1978 Cadillac Hearse, commercial glass/chassis, built by Miller-Meteor. It has the stock 425 engine with dual exhaust/cherry bombs. Bought from a pimp in New Jersey who was "gettin' out of the game." Unfortunately, the "bitches" weren't included.
A party on wheels, it features a custom paint job with a "jungle" mural on the hood. The custom made interior includes a vibrating bed, minibar, rotating disco ball, neon lighting interior/undercarriage, and a whole lotta Pimpin' attitude - You dig??!!??
This beast is surprisingly fast for a 6,000+ pound vehicle.
Awards
1st Place 2004 Coney Island Mermaid Parade
Post 1965 Modified Category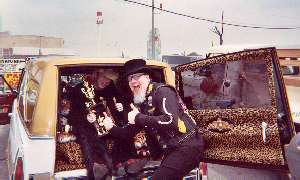 Driving A Hearse
---
PRO: Since you're undercover, cops won't hassle you when you're crusin' around after downing a bottle and a half of tequila.
CON: Hookers get freaked out and scatter like cockroaches when ya try to pick em up.
---