Duff's Girls: Megan and Stacy, the identical "Metal Twins"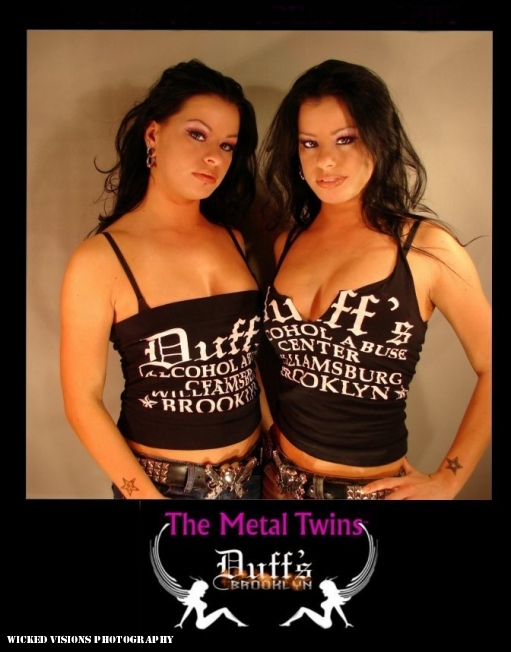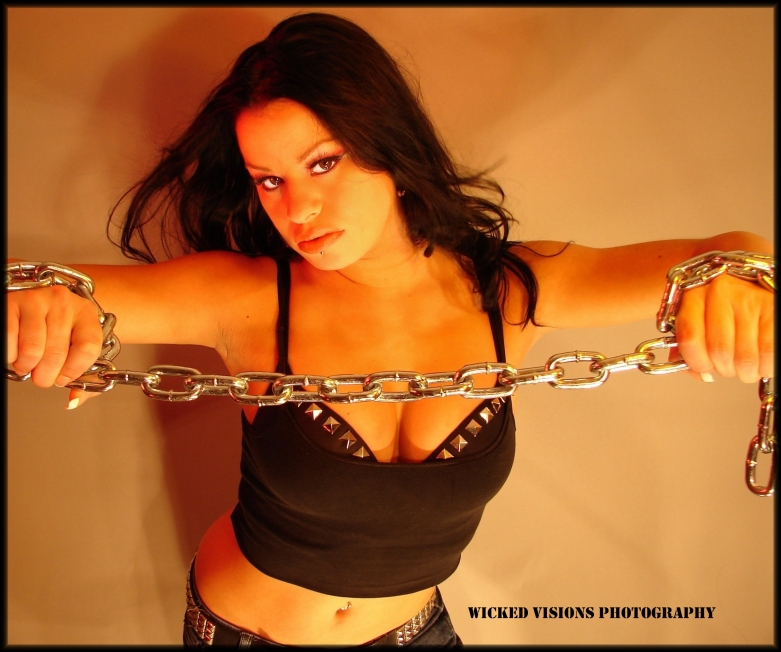 Name: Megan
Measurements: 34" 26" 34"
Best part of having an identical twin: The Best part about having an identical twin is having someone there with me 24/7. Someone who shares my exact thoughts, likes and dislikes, and loves the music I love! We rock out together!
Hometown: Killadelphia, PA
When visiting Philadelphia, you must: Well duh, Buy a Cheesesteak. Check out some of the local Metal bars and clubs. "Father Denny's" has METAL MONDAYS at Front & Girard St., "The M Room" has great music and awesome Jager Bombs at Girard & Frankford, even "Johnny Brendas" a block east from "The M room." Good music, good people. Also, there's a club on 7th street called Shampoo that has an entire night during the week called Nocturne dedicated to the "Goth" scene, the local Killadelphians call it "Goth Night on Wednesdays." Music, drinking, and plenty of VERY interesting people. Occasionally they'll have a Dracula's Ball where you dress to the extreme and go to the club, you can get professional vampire teeth done, buy some gothic clothing, or random shit like knives and jewelry, etc., then go dance and party. They'll usually have a special guest like VNV Nation or Rasputina, usually always Goth/Industrial/Techno groups. But Its definitely a good time.
Poison of choice: Jager Bombs & Captain Morgan
Favorite Band:Right now...I'm gonna have to say Black Label Society!
Most Memorable Concert:My most memorable concert definitely had to be the First time I was ever killed by GWAR. I love those guys! Sounds of the Underground 2006, in Maryland. GWAR slaves drug us out onto the stage and fed us to the Gor-Gor. GWAR fans know what I'm talking about but for those who don't The Gor-Gor is a Huge T-Rex Monster about 8 feet tall and when it bites you blood shoots out of its mouth, Stacy and I were covered in blood, it was wicked!!
Best Metal "War story":Hmmm...that's a hard one to pinpoint!
Name 5 "Desert Island Discs":Any PANTERA CD would have to go, I could never get sick of those guys. Preferrably Cowboys from Hell. Black Label Society's Blessed Hellride. Any Metallica CD, well wait, No, not ANY Metallica CD haha. Most Likely Ride The Lightning or Master. The Last two would definitely be SLAYER'S - Damnit, such a hard choice... South of Heaven and Fear Factory's - Obsolete.
Most anticipated Album/Tour: OZZY and ROB ZOMBIE ARE COMING!
---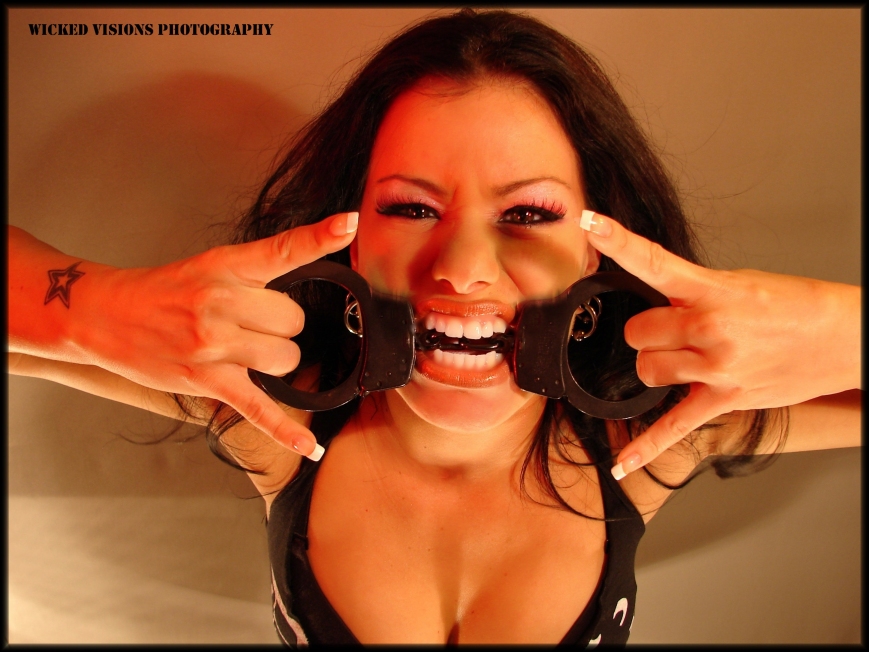 Name: Stacy
Measurements: 34" 26" 34"
Best part of having an identical twin: I always had someone to talk to. I can never be lonely. We share mostly all of the same interests in everything so we go everywhere together!
Hometown: Philly
When visiting Philadelphia, you must: DO NOT get a cheesesteak for Pat's, OR Geno's! They both suck! Go to Iskibibbles on South Street (cross street 4th) and for a bar scene go to Whiskey Dix at 421 N. 7th street!
Poison of choice: Jager Bomb
Favorite Band: PanFUCKINGtera
Most Memorable Concert: GWAR!!!!!!!
Name 5 "Desert Island Discs" : BLS - Blessed Hellride, PANTERA - Cowboys From Hell, METALLICA - Ride The Lightening, FEAR FACTORY - Demanufacture, SLAYER - South of Heaven
Most anticipated Album/Tour: Pantera's ghostly reunion tour. I know, I shouldn't say that but I guess my hopes and dreams are just showing. I'd have to say SLIPKNOT!!! They've been off tour for almost 3 years now!
VanHagar or DLR ?: Not that I don't support and/or love Sammy, but the very first fans of Van Halen must have been torn when Dave left the band. I'll have to go with the original for moral purposes. David Lee Roth. But I do enjoy both. Can't I just say both!!?!!!!!?!!!!?!!
---